Overview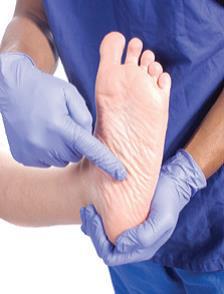 Of the many body parts we benignly neglect, our feet may be the most taken for granted. They get us where we need to go, supporting a lot of weight given their size relative to the rest of our bodies. They are structurally complex, comprising 26 bones, 33 joints, and 100+ muscles, tendons, and ligaments apiece. Indeed, over a quarter of the bones in the body are located in the feet. Most human feet have arches much like the ones in some bridges and other architectural structures. And much like these man-made structures, our bipedal arch turns out to be a useful engineering phenomenon. ?The arches distribute weight evenly across the feet and up the legs, and can affect walking. A well-developed arch is balanced between rigidity (for stability and flexibility (for adapting to surfaces). What, then, are the implications of fallen arches, otherwise known as flat feet, where no or little foot arch exists and the instep of the foot touches the ground? There are two types of flat feet. A person with flexible flat feet has some arch, especially when standing on the toes. A person with rigid flat feet has no arch whatsoever. Infants usually have flat feet, with the arch developing in childhood.
Causes
A Rigid Flat Foot may be congenital, where the arch never develops when growing. A Rigid Flat Foot can also be acquired due to disease processes involving inflammatory arthritis, neurological conditions such as Charcot neuro-arthropathy or trauma. A Flexible Flat Foot (fallen arches) may also be congenital where excessive pronation occurs for shock absorption. In some cases this condition may be the result of neurological disease or injury involving muscle weakness, hyper-mobile joints or ligament laxity. These conditions may allow for excessive pronation causing the arch to fall when weight bearing or during activity. Both of these foot types can result in posture mal-alignment involving the lower back, hips, knees and feet which may result in pain in those areas.
Symptoms
The primary symptom of flatfeet is the absence of an arch upon standing. Additional signs of flatfeet include the following. Foot pain. Pain or weakness in the lower legs. Pain or swelling on the inside of the ankle. Uneven shoe wear. While most cases of flatfeet do not cause problems, complications can sometimes occur. Complications include the following, bunions and calluses, inability to walk or run normally, inflammation and pain in the bottom of the foot (plantar fasciitis), tendonitis in the Achilles heel and other ligaments, pain in the ankles, knees, and hips due to improper alignment, shin splints, stress fractures in the lower legs.
Diagnosis
Many medical professionals can diagnose a flat foot by examining the patient standing or just looking at them. On going up onto tip toe the deformity will correct when this is a flexible flat foot in a child with lax joints. Such correction is not seen in the adult with a rigid flat foot. An easy and traditional home diagnosis is the "wet footprint" test, performed by wetting the feet in water and then standing on a smooth, level surface such as smooth concrete or thin cardboard or heavy paper. Usually, the more the sole of the foot that makes contact (leaves a footprint), the flatter the foot. In more extreme cases, known as a kinked flatfoot, the entire inner edge of the footprint may actually bulge outward, where in a normal to high arch this part of the sole of the foot does not make contact with the ground at all.
high arch feet
Non Surgical Treatment
Treatment often consists of giving the affected foot support from underneath so that the strain is taken off it (by the use of insoles or support pads) and so symptoms are relieved. A specialist in this problem is known as a podiatrist and these do work in the NHS - ask you father's doctor whether his condition is bad enough to warrant a referral to such a specialist.
Surgical Treatment
A better approach is to strengthen the weakened ligaments with Prolotherapy, supplemented by an arch support if the condition has existed for several years. Chronic pain is most commonly due to tendon and ligament weakness, or cartilage deterioration. The safest and most effective natural medicine treatment for repairing tendon, ligament and cartilage damage is Prolotherapy. In simple terms, Prolotherapy stimulates the body to repair painful areas. It does so by inducing a mild inflammatory reaction in the weakened ligaments and cartilage. Since the body heals by inflammation, Prolotherapy stimulates healing. Prolotherapy offers the most curative results in treating chronic pain. It effectively eliminates pain because it attacks the source: the fibro-osseous junction, an area rich in sensory nerves. What?s more, the tissue strengthening and pain relief stimulated by Prolotherapy is permanent.
Prevention
Donning a first-rate pair of arch supports, therapeutic socks and proper footwear before heading out to enjoy hours of holiday fun is one option to consider. Your podiatrist can help you find just the right ones. Once you have them on, they?ll help ease the amount of pressure being put on your body and keep the blood flowing in the right direction. While you?re standing in line, consider doing a bit of exercise as well. We?re not talking about channeling your inner Jack LaLanne here. Otherwise, you might attract the attention of the mall security guards. Simple ankle rotations and walking in place may help to reduce edema and give your flat feet a bit of a break. If you happen to be in a shopping mall or center where foot massages are available, take advantage of them periodically. They are likely to make you feel better and it?s a great excuse to carve out a few quiet moments for yourself. If you can?t visit a professional, tuck a personal foot massager into your purse. That way, you can lightly massage your own feet during the car ride home. Lastly, there are certain foods and nutritional supplements available that may reduce edema caused by standing on flat feet for hours at a time. The list includes potassium rich foods like raisins, bananas, baby carrots, nuts and yogurt. So, you may want to pack a snack for those trips to the mall or hit the food court before you hit the stores.
After Care
Patients may go home the day of surgery or they may require an overnight hospital stay. The leg will be placed in a splint or cast and should be kept elevated for the first two weeks. At that point, sutures are removed. A new cast or a removable boot is then placed. It is important that patients do not put any weight on the corrected foot for six to eight weeks following the operation. Patients may begin bearing weight at eight weeks and usually progress to full weightbearing by 10 to 12 weeks. For some patients, weightbearing requires additional time. After 12 weeks, patients commonly can transition to wearing a shoe. Inserts and ankle braces are often used. Physical therapy may be recommended. There are complications that relate to surgery in general. These include the risks associated with anesthesia, infection, damage to nerves and blood vessels, and bleeding or blood clots. Complications following flatfoot surgery may include wound breakdown or nonunion (incomplete healing of the bones). These complications often can be prevented with proper wound care and rehabilitation. Occasionally, patients may notice some discomfort due to prominent hardware. Removal of hardware can be done at a later time if this is an issue. The overall complication rates for flatfoot surgery are low.